News & Events
Unlocking the Power of Digital Public Infrastructure: Join Us on November 8th!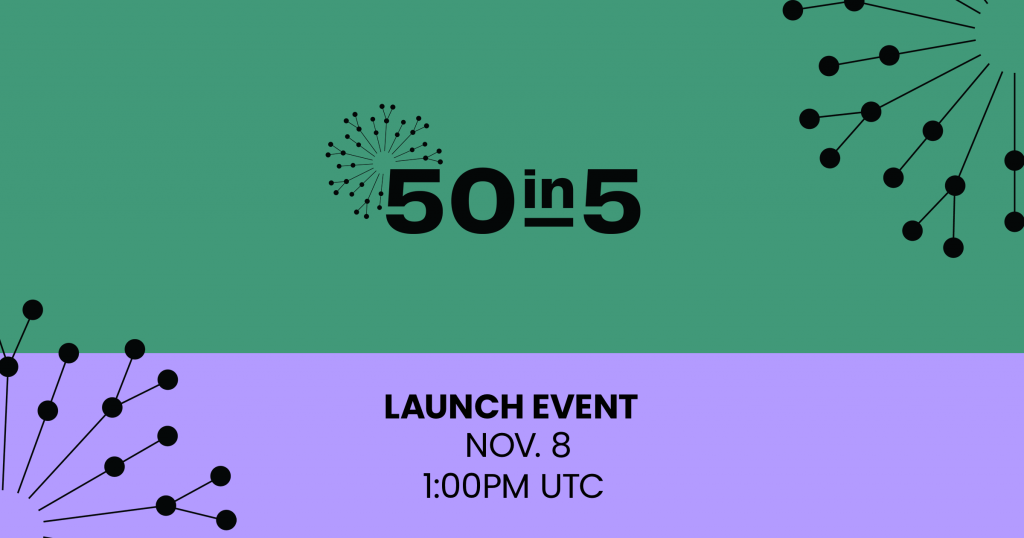 Recognizing the immense potential for countries to strengthen their economies and the well-being of their people through digital public infrastructure (DPI), we invite you to join digital leaders from around the world for the formal launch of the 50-in-5 campaign.
With the ambitious goal of having 50 countries design, launch, and scale at least one component of their digital public infrastructure stack in a safe, inclusive, and interoperable manner within five years (by the end of 2028), countries are coming together through 50-in-5 in a collaborative effort to accelerate DPI adoption.
The 90 minute launch will take place on November 8th starting at 1 PM UTC, with Garikai Nhongo of the Co-Develop Fund as MC. The event will feature an engaging lineup of speakers and panel discussions. Topics will include strategies for overcoming DPI challenges and discovering collaborative opportunities within the 50-in-5 campaign. Additionally, it will delve into the pivotal role of local ownership, innovation, and entrepreneurship in propelling DPI forward.
The event will also mark the announcement of the "First Mover" countries, those leading the way in the 50-in-5 campaign. These countries, which include both advanced and emerging digital leaders, serve as inspiration for others looking to build their own digital foundations. Confirmed participation includes:
Cristina Kiomi Mori, Executive Secretary, Ministry of Management and Innovation in Public Services, Brazil
Cina Lawson, Minister of Digital Economy and Transformation, Togo
Dumitru Alaiba, Deputy Prime Minister, Minister of Economic Development and Digitalization, Moldova
Karianne Tung, Minister of Digitalisation and Public Governance, Norway
Salima Monorma Bah, Minister of Communication, Technology and Innovation, Sierra Leone
Anir Chowdhury, Aspire to Innovate (a2i), ICT Division/Cabinet Division/UNDP, Bangladesh
Cheikh Bakhoum, CEO, Senegal Numerique S.A
Enrique Cossich Mérida, Executive Director, Presidential Commission on Open and Electronic Government, Guatemala
Mahesh Perera, CEO, Information and Communication Technology Agency, Sri Lanka
Nele Leosk, Ambassador-at-Large for Digital Affairs, Estonia
Sarah Espaldon, Head of Marketing & Engagement, Open Government Products, Singapore
Yodahe A. Zemichael, Executive Director, National ID Program, Ethiopia
Liv Marte Nordhaug, Co-Lead, Digital Public Goods Alliance
Dr. Pramod Varma, Former Chief Architect Aadhaar & India Stack, CTO EkStep Foundation
50-in-5 is a country-led advocacy campaign in collaboration with the Bill & Melinda Gates Foundation, Centre for Digital Public Infrastructure, Co-Develop, Digital Public Goods Alliance, and United Nations Development Programme and is supported by GovStack, the Inter-American Development Bank, and UNICEF.

Join us on November 8th to explore the transformative potential of DPI and join the global movement. Register now and mark your calendar.