News & Events
11 'First-Mover' Countries Launch 50-in-5 Campaign to Accelerate Digital Public Infrastructure Adoption Around The World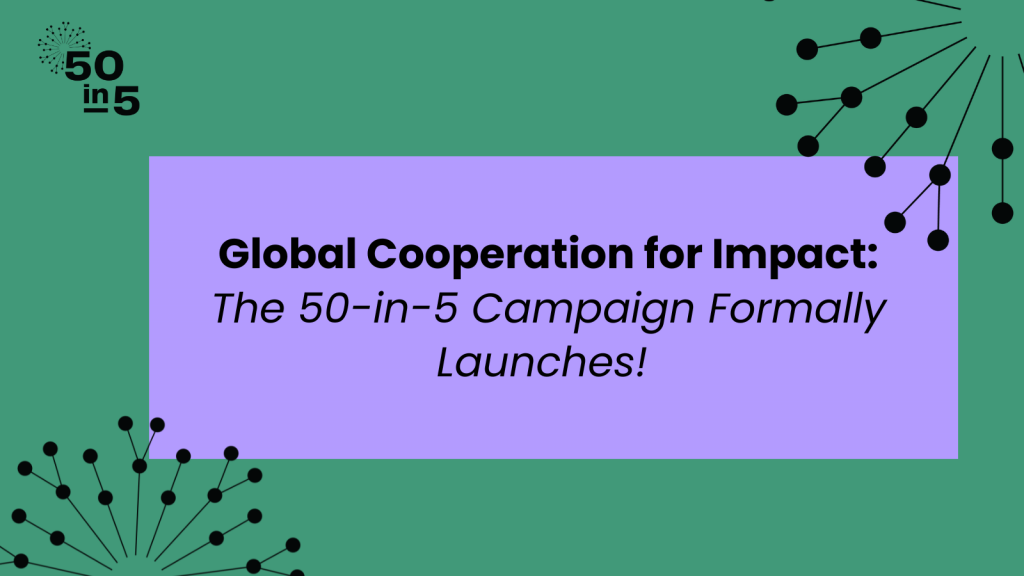 9 November 2023: Global leaders and high-level representatives from 11 'First-Mover' countries gathered yesterday for the official launch of the 50-in-5 campaign. This ambitious, country-led campaign heralds a new chapter in the global momentum around digital public infrastructure (DPI) – an underlying network of components such as digital payments, ID, and data exchange systems, which is a critical accelerator of the Sustainable Development Goals (SDGs).
The 11 First-Mover countries span different geographies and income levels: Bangladesh, Estonia, Ethiopia, Guatemala, Moldova, Norway, Senegal, Sierra Leone, Singapore, Sri Lanka, and Togo. These countries serve as beacons of progress and inspiration for countries to build their own digital foundations and improve their economies and the well-being of people.

Global Collaboration for Impact: 50 Countries within 5 years
50-in-5 brings countries together to help radically shorten DPI implementation journeys by sharing learnings, best practices, and built-for-purpose open technologies – including digital public goods (DPGs) – that can reduce costs and maximize impact for all. The goal of the campaign is for 50 countries to have designed, implemented, and scaled at least one DPI component in a safe, inclusive, and interoperable manner in five years, by the end of 2028.
50-in-5 underscores the unified commitment of participant countries' to work together to implement safe and inclusive DPI. This country-led campaign is in collaboration with the Bill & Melinda Gates Foundation, Centre for Digital Public Infrastructure, Co-Develop, the Digital Public Goods Alliance, and the United Nations Development Programme (UNDP) and is supported by GovStack, the Inter-American Development Bank, and UNICEF.
First-Mover countries call on everyone to join in these efforts, and on the global financing community to invest in DPI so that, with steadfast and collective efforts, the world can build a future where digital transformation is not only a vision but a tangible reality.

Key Statements from First Movers and Partners

"When countries come together to build DPI, we will see much less reinvention of the same wheel. We'll see cost cutting, time cutting, mistake cutting, and bug cutting." – Anir Chowdhury, Aspire to Innovate (a2i), ICT Division/Cabinet Division/UNDP, Bangladesh

"For Estonia, the aim of digitalization is about much more than DPI or becoming the world leading country in digital public services, the aim has always been to make a strong economy, to create a more open government and effective government, with the true inspiration being to build our democratic state." – Nele Leosk, Ambassador-at-Large for Digital Affairs, Estonia

"In a country like ours, where there are federal and regional governments, each keeps data separately and has a mandate. You have to keep fences to be able to talk to each other across geographies and jurisdictions (…) it's very easy to learn from countries like Sri Lanka and Singapore. We don't have to reinvent the wheel, especially when there is no need to reinvent it."- Yodahe A. Zemichael, Executive Director, National ID Program, Ethiopia

"I want to emphasize our firm commitment to releasing relevant technologies as open source in the future. We believe that this will not only benefit the citizens but also contribute to the growth and development of the country." – Enrique Cossich Mérida, Executive Director, Presidential Commission on Open and Electronic Government, Guatemala

"Digital public infrastructure and digital transformation are a shortcut for economic growth and providing opportunities for citizens." – Dumitru Alaiba, Deputy Prime Minister, Minister of Economic Development and Digitalization, Moldova

"In this digital journey we stand ready to share relevant learnings and best practices with other 50-in-5 countries, and we are eager to learn from others. We will also make some of our proven technologies available as open source." – Karianne Tung, Minister of Digitalisation and Public Governance, Norway

"Wherever there are successes through this alliance, we'll be able to make a major contribution to our economies and our progress." – Cheikh Bakhoum, CEO, Senegal Numerique S.A , Senegal

"Sierra Leone is excited to be part of 50-in-5 and urges everyone else to join the campaign – the next five years are the window of opportunity to speed up safe and inclusive DPI implementation together and thereby accelerate positive outcomes for people globally." – Salima Monorma Bah, Minister of Communication, Technology and Innovation, Sierra Leone
"An aim [of Singapore] is open sourcing technologies and sharing our products, learning, and practices with countries around the world because we realize the importance of sharing and knowledge exchange." – Sarah Espaldon, Head of Marketing & Engagement, Open Government Products, Singapore

"We strongly believe that a digital public infrastructure approach is the best way to achieve our socio-economic objectives in the country, and in that context we are giving highest priority to unique digital identities" – Mahesh Perera, CEO, Information and Communication Technology Agency, Sri Lanka

"Having developed DPI in house, we have a role to play in regards to expanding DPI on the continent, and we want our payment platform to be open source because we believe in our mission to drive progress for our country and the entire continent." – Cina Lawson, Minister of Digital Economy and Transformation, Togo
"For UNDP, a DPI approach that combines people-centric governance is critical to ensure that this new infrastructure can accelerate the SDGs. This country-led 50-in-5 campaign is a core part of how UNDP continues to support meaningful global digital cooperation and strengthens local ecosystems to design and implement rights-based DPI." – Keyzom Ngodup Massally, head of digital programmes at UNDP

"The 50-in-5 campaign will help countries shorten each other's digital public infrastructure learning and adoption paths. Digital public goods can play a critical role by fostering innovation, interoperability and country cooperation." said Liv Marte Nordhaug, Co-lead, Digital Public Goods Alliance
Embracing Cooperation through DPI

All countries, regardless of income level, geography, or where they are in their digital transformation journey, can benefit from being a part of 50-in-5. Joining the campaign helps ensure countries don't have to tackle DPI implementation alone or start from scratch.
By implementing DPI components, participating countries can stimulate innovation and local entrepreneurship, enhance access to services and opportunities for all people, and pave the way for more interoperable technologies and collaborative global communities.
Failure to prioritize DPI implementation, the adoption of DPGs, or the sharing of best practices can leave countries trapped in digital monopolies or disjointed digital ecosystems with low or poorly governed safeguards. This would stifle innovation, restrict public benefits, and expose citizens to significant risks. Conversely, when implementing DPI in a safe, inclusive, and interoperable manner it can reduce inequalities and help build resilient economies for the future.
For inquiries, reach out to the 50-in-5 campaign here or directly to Jon Lloyd, 50-in-5 Project Lead, jon@50in5.net.